ThinkPad T495s - Developers Review
Today a post from my life instead of Blockchains. I bought a new Laptop. I was thinking about it for quite a while and the timing seemed just right, as my old one couldn't handle several Docker containers anymore in parallel. I have it for a week now and I have mixed emotions about it.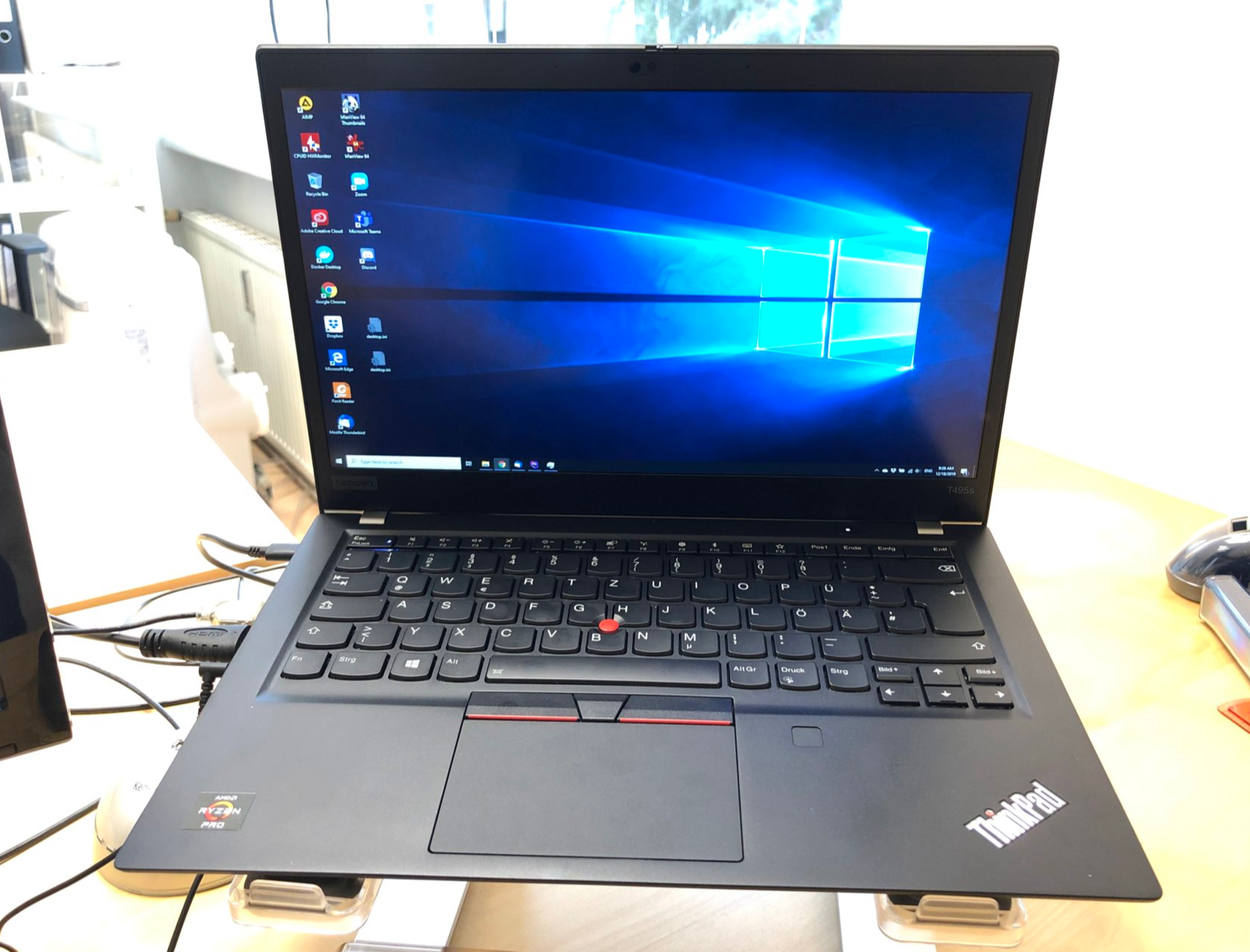 ThinkPad T495s, Ryzen 5 Pro, 16GB Ram, 512SSD, Windows 10 Pro
My Choices:
There were five Laptops in my list:
Lenovo ThinkPad T495s with a Ryzen 7 Pro, 512GB SSD, 16GB Ram
T495s with a Ryzen 5 Pro
X395, Ryzen 7 PRO 3700U, 16GB RAM, 512GB SSD (13.3")
E495, Ryzen 7, 512GB, 16 Gig Ram
Dell XPS 13 7390, Core i7-10510U, 16GB RAM, 512GB SSD (13.3")
I got the T495s with the AMD Ryzen 5 Pro. It's considerably cheaper than the T495s with the Ryzen 7 pro and the TDP will throttle it down anyways, so the Ryzen 7 shouldn't make any impact at all. I was also thinking about the X395, because it's a bit smaller, but then decided on the bigger one because of the supposedly better heat-management (more space?). I am not 100% convinced it was a good idea quite yet. Read on.
The E495 caught my eye because of the price - it's basically half price from the T-Model. Also, the RAM is extendable in the E495, while it's fixed in the T495s. Problem is, the display is really bad according to my research. And the RAM is single-channel while dual-channel in the T-Model. And the company I am working for is paying for it, so, price wasn't really an issue.
The X395 was interesting because of the size. But then I compared the fan noise to the T495s and thought: The size of the T495s is larger, so there must be more space for better heat management. Also the benchmarks showed that the fan isn't jumping on so quickly.
I am traveling a lot. Like... a lot. And mostly I do developer-stuff on my computer. I run Compilers, Web-Development with Databases, I do some Photo-Editing every now and then. I have a thousand Tabs in Chrome open (yes, that takes often around several GB of RAM, 1GB at least). That is my typical TaskManager 10 minutes after a cold boot in the morning: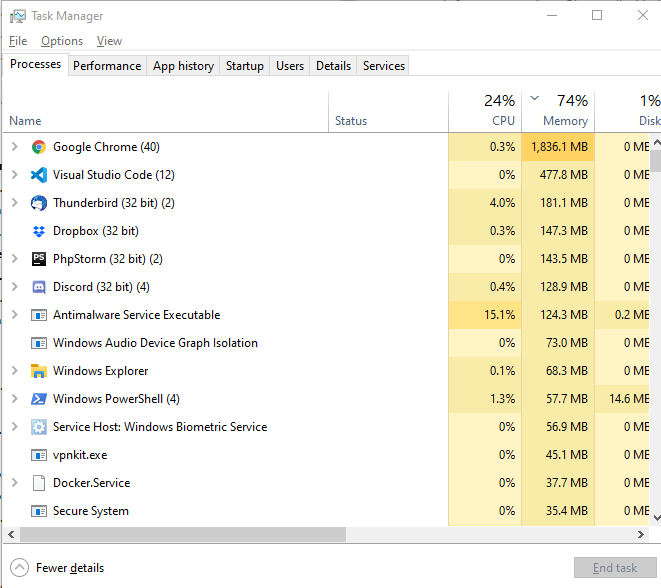 The Good
I like several things about the laptop.
The build quality. I am still not sure if that's plastic or an aluminum body - which I think it's plastic feeling like aluminum. It feels *great *and looks great!
The Chassis of the display is really stiff and nice.
The display isn't some shiny glossy touchscreen - it's a matte panel - really sweet.
Windows Hello + IR Cam. Yes, I know - who needs that? But it makes my walk to the coffee machine and back to work quite nice when I sit down and it's unlocked again.
USB-C Loading by default. I haven't had this in the past. I like it.
It's supposedly faster, but isn't really at first - more on that below.
It comes *without *any bloatware installed. Yes! Thanks Lenovo! Nice move.
It just works. I can't say it any better - it's not surprising, but it should be mentioned, since it's not always the case.
The Bad
Keyboard
The Keyboard. I don't think I will ever like the Keyboard Layout. Especially the Del/Pos1/End keys. Also the FN Key should be switched with the Ctrl (Strg in German) Key.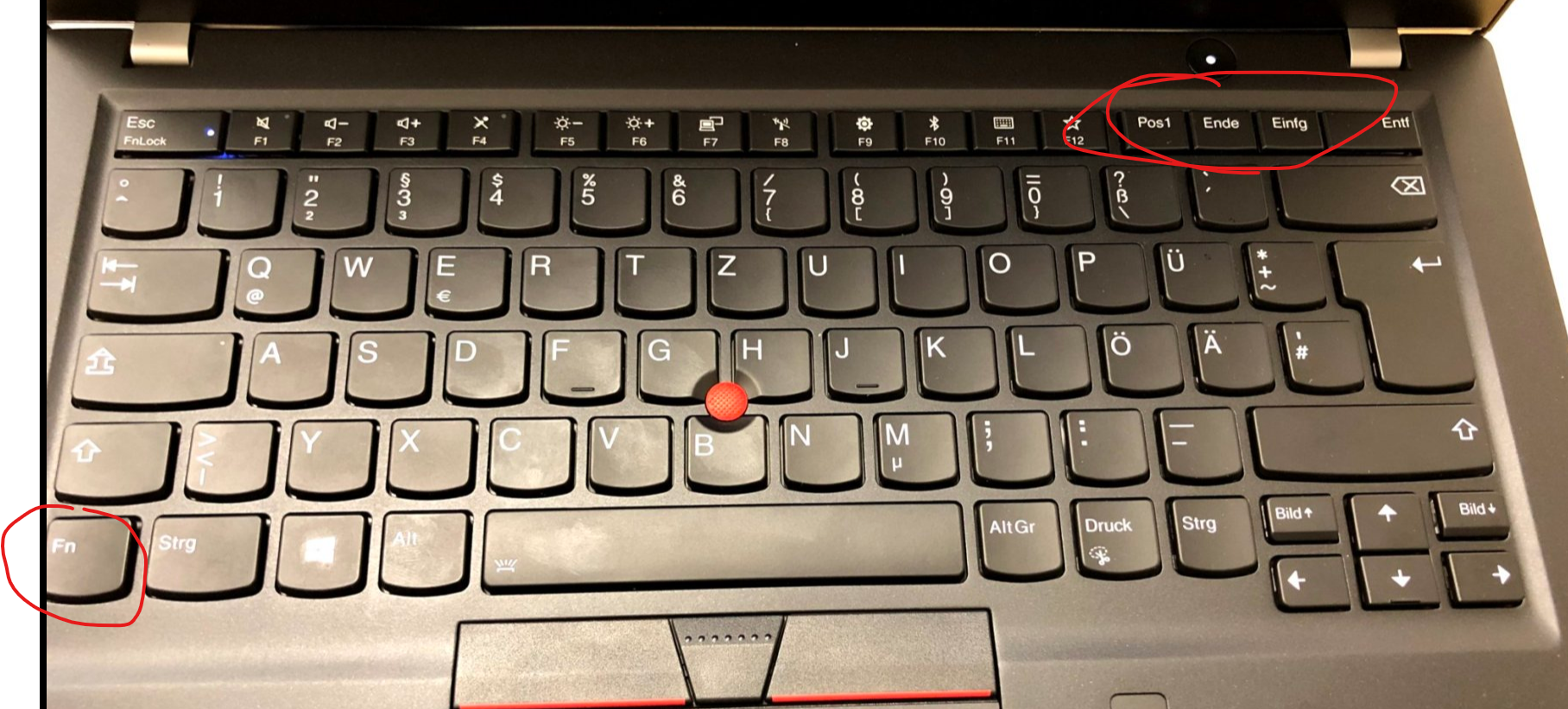 Fan Noise
The Fan has a particular pitch which sounds like a tinnitus. I can hardly describe it anything else. Luckily I got headphones, but when the fan runs on "half-idle" it's a bit like scratching the blackboard with chalk.
It's slow, so so slow out of the box!
When I got the laptop, it was painstakingly slow. It felt like there is a delay in almost every button I press. Even writing in this blog was laggy. I scraped the web for answers and mostly found it as the way the laptop handles thermal power management of the CPU. HWMon showed a maximum speed of 1395MHz, which isn't really what I was expecting.
I was expecting some throttling, but it shouldn't be so noticeable, according to https://www.notebookcheck.net/Lenovo-ThinkPad-T495s-Review-The-AMD-business-laptop-is-good-but-the-fan-is-annoying.435254.0.html
Also, they write: "While you have no influence on the processor in the Campus model of the ThinkPad T495s, if you configure the device in Lenovo's online shop, we recommend the Ryzen 5 Pro 3500U. You can find additional technical details on the Ryzen 7 Pro 3700U here.", which is the main reason I bought the Ryzen 5 instead of the Ryzen 7.
According to another test from notebookcheck it is very obvious that the TDP is playing a major role here: https://www.notebookcheck.net/Lenovo-ThinkPad-T495-with-Ryzen-5-Pro-is-slower-than-Core-i5-ThinkPad-T490-in-initial-benchmarks.424019.0.html
I believe the problem comes from something like this: "AMD uses another limit with the somewhat cryptic acronym STAPM, which stands for Skin Temperature Aware Power Management. This limit is supposed to make sure the surfaces do not get too warm."
When I installed hwmon and started observing the CPU speed, I noticed it barely broke through 1.4GHz. I wasn't really alone with the problem and the problem is also obvious on the E495 model: https://forums.lenovo.com/t5/ThinkPad-11e-Windows-13-E-and/E595-Ryzen-5-3500U-Staying-at-1400MHz-when-trying-to-run-low-end/td-p/4456596
Some BIOS tweaks
So, I have the latest bios. I have the latest drivers. I have set everything to maximum performance in my energy settings. Everything is up to date. That meant there must be some setting.
Obviously, getting a laptop off the shelf meant there are no special engineering-settings in the bios. It's not a pre-release, or any internal release. It's just a regular laptop from the retailer.
The only setting I found was the CPU Power Management setting. I turned it off, and sure enough, it finally went full-speed: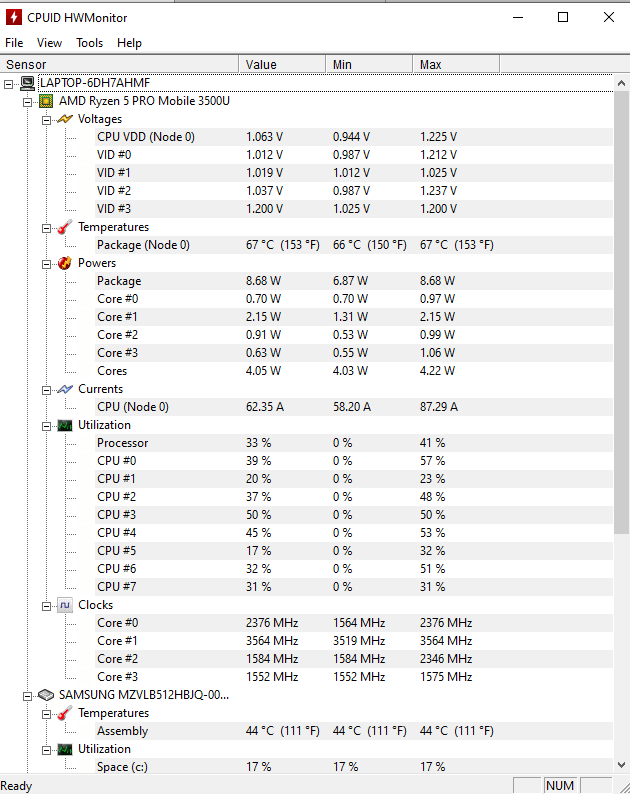 It still feels a bit laggy, but nothing compared to before.
That is my Geekbench 5 CPU Benchmark of the T495s
Would I buy it again?
I am not sure yet. After getting full speed, I quite like it. I like the overall build quality. It's a really sweet laptop, but comes with some serious drawbacks. My co-workers already complained about the fan-noise. I am still thinking about sending this back and getting the XPS instead. Or the E495, with the consumer CPU which isn't throttling so quickly.
Let's see - the next months will show. I'll keep you updated.
If you have a similar model and experienced similar things, or you have questions, connect with me on LinkedIn!