This is a letter to my younger self, discovering Hong Kong for the first time with tips and tricks I wish I knew...
I am from Austria and my wife is from Hong Kong. Since we spend quite some time in Hong Kong, I ran into a lot of things that are completely unusual for foreigners the fist time here. I also work remotely as a programmer from here a few weeks per year, so I found my way around.
No, it's not a city guide - it's my survival notes.
Architecture, Nature and Area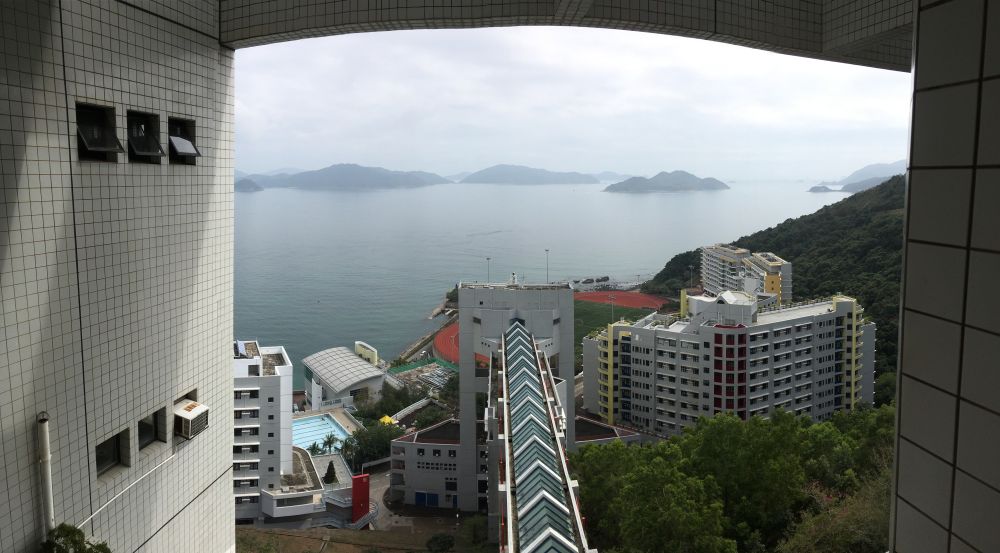 Hong Kong University of Science and Technology (HKUST)
I remember, when I fist flew to Hong Kong, it was a beautiful day. There was some ground fog, it was sunset, and the tallest buildings were casting a shadow on the clouds. Something I've only seen in movies. I wish I made a picture of that scene.

Victoria Harbor, view to Hong Kong Island
While I have no picture of that particular first time, its still impressive how the mini-busses are making their way through the narrow roads. It's not Thailand, but it's also not a 5-lane-highway, it's something very spectacular. The Mountains compared with the buildings. I always have the feeling I'm trapped in a computer game here.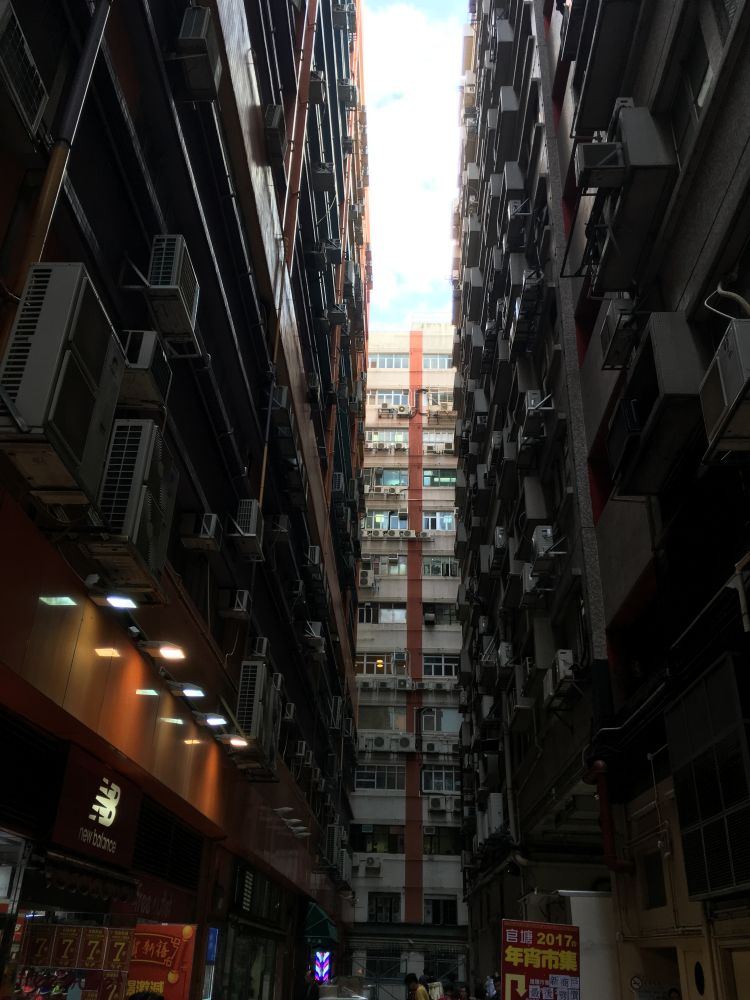 Narrow Houses in Kwun Tong, Hong Kong - interesting to see the Air Conditioning in almost every window
Here are my personal favorites outside of the standard tourist spots
Sai Kung
Sai Kung is a little Fishertown. If you want to escape the "big city" for a while, go there. It has also the best Pineapple Bun (more on that later).
Stanley
Stanley is on the end of Hong Kong Island. Again, most tourists will rush into Mong Kok, Tsim Sha Tsui, but it will soon get overwhelming. If you need a bit of rest, a little treat, visit Stanley.
In both, Stanley and Sai Kung, Dogs are allowed, so people are very friendly. Sai Kung is more Asian, with fish restaurants "Asian Style". Stanley is more western-style. Reminds me of Greece or Croatia a bit.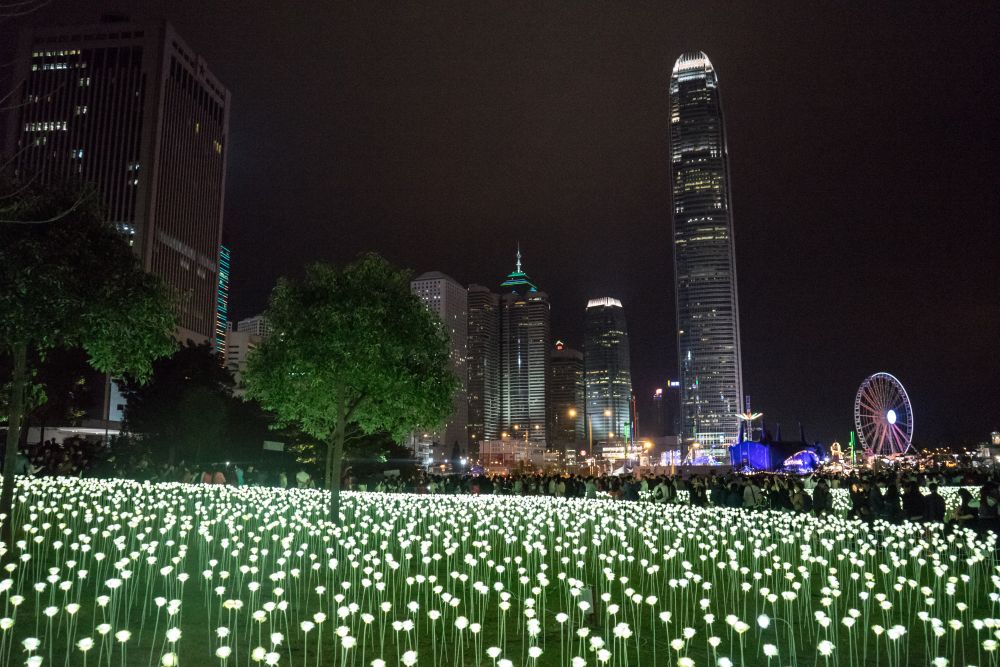 Artificial Flower installation on Hong Kong island
Nature, Hiking
While the city is packed, there is definitely room for outdoor activities. Hong Kong has huge "untouched" parks, full of hiking trails, climbing, photo-spots and also some hidden beaches and restaurants.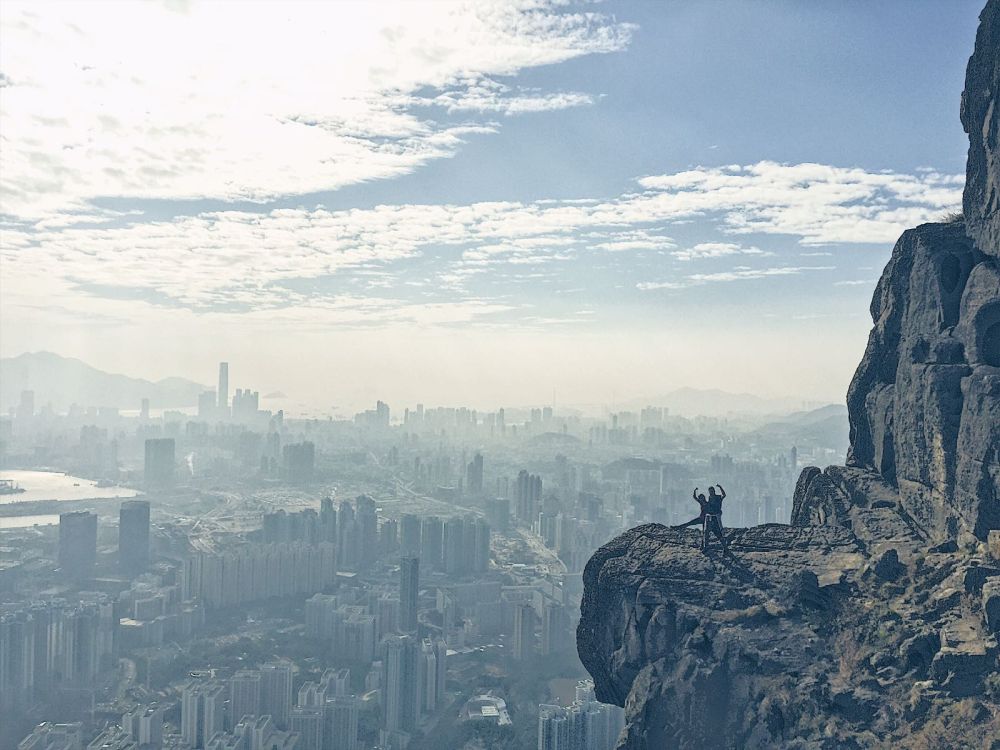 The picture above was taken at the "Suicide Rock" or Suicide Cliff. You can climb this from two sides, the view is absolutely stunning -- and nothing for beginners.
More on climbing and hiking here: http://www.itishk.com/category/top-10-hiking-trails/
What I can also recommend is the hiking to the Ham Tin Beach. You can go there the easy way or, what I personally would recommend for a bit of hiking, the free way
Food & Drinks & Snacks
Hong Kong is a life-style city, which gets clearly highlighted by the variety of food choices here. The price-range can go from a few HK$ to a few thousand easily. The cheaper doesn't mean worse, its just not "fine dining", its local and delicious.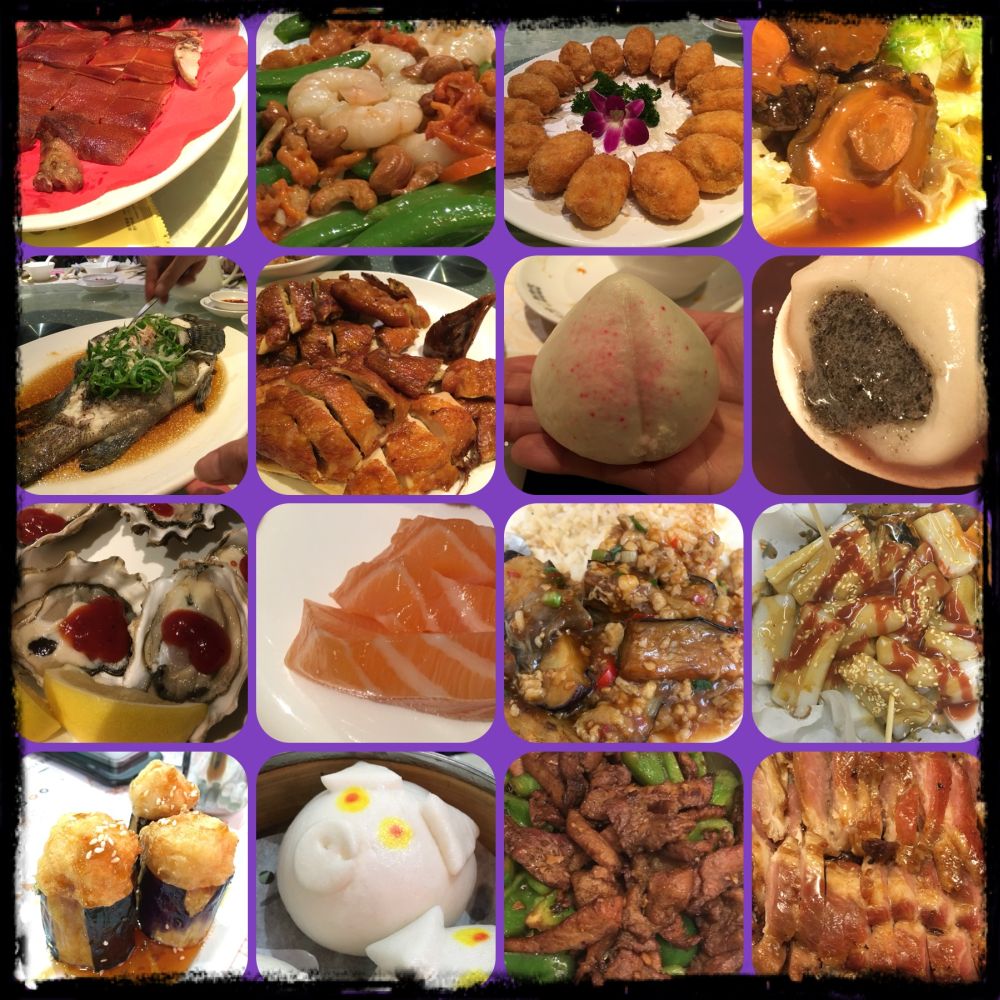 Different Food in Hong Kong
What I found absolutely great was that most food is pretty organic. The Dim Sum ist mostly steemed, the fishball is pure fish, the rest is a mix of fish and rice flour. Almost no gluten and also not a lot of Monosodiumglutamat (MSG), if you can avoid too much Soy Sauce and some other spices...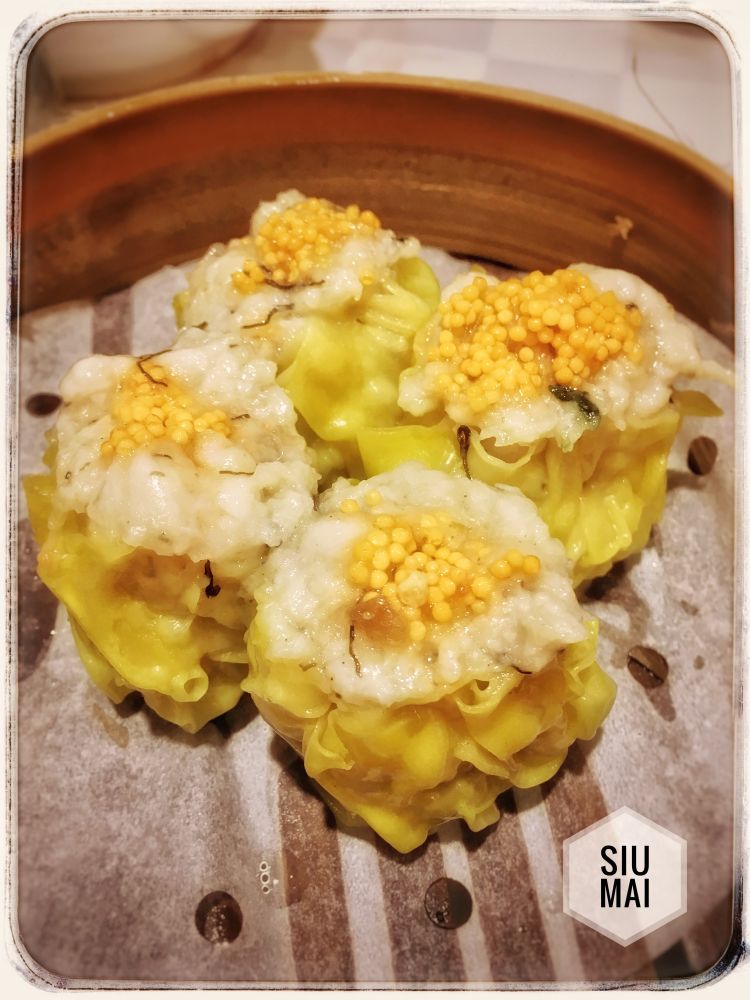 Siu Mai, or Shaomai, mostly ground pork, shredded and whole shrimp, served steamed
There are Dim Sum restaurants everywhere. Actually there are all kinds of restaurants everywhere.
Pro Tip: do not just enter any kind of restaurant - you are playing russian roulette. Go where Honkies go.
Not for your health, for your taste. Food is in genereal pretty safe to eat, you must have really really bad luck if you get sick. But if you just randomly walk around and eat, you might miss a lot of great things.
As far as I can tell, it works like this here: "Good Restaurant" opens. A lof of people come. 9 Bad restaurants try to clone "Good Restaurant" in the same area. Walking randomly in 1 restaurant leaves you a chance of 1/10th that you waste precious calories on average food. Download the App OpenRice and look at the rating before you eat. It's worth it.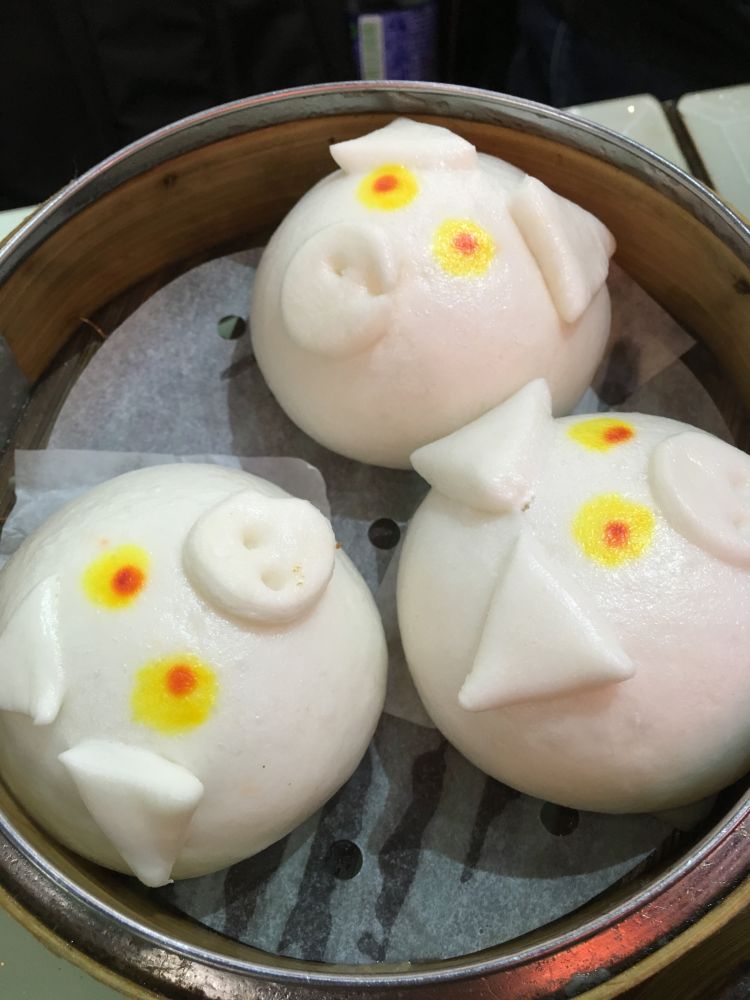 Mini Custard Bun in DimDimSum - a Restaurant-Franchise I can recommend
DimDimSum is a chain that serves kind-of Dim Sum. Actually they are really great Dim Sum. It's what is referred as "Fancy DimSum", very great quality, with a menu and staff that speaks english. It's the perfect point to start. Google it when you are here, there are several DimDimSum restaurants throughout the city.
Another "fancy" Dim Sum Restaurant is House of Jasmine. It's located in Harbour City. It got a lot of bad reviews because of the slow service, which I can't really confirm. I'm happy so far if I want a bit more upscale Dim Sum - good value for the money.
If you want something more local, basically just hop on tripadvisor and search for a DimSum restaurant near by (or OpenRice'it). But beware that staff may not speak english - best would be if you find a local person to guide you around.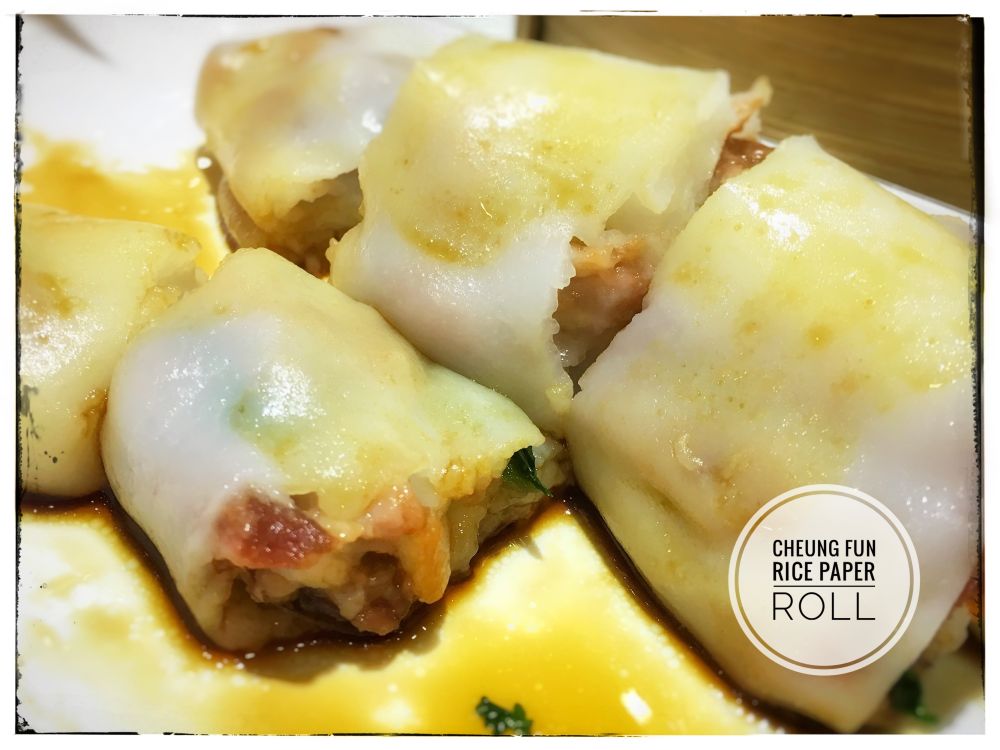 Rice Paper Rolls with BBQ Pork filling
Rice Paper Rolls and Fishball
There are two things that I refused to eat the first time I saw it. Now I am in love and can't get enough from it. Rice Paper Rolls and Fishball.
Rice Paper Rolls
They are made with a mix of rice-flour and water. It is mixed together to form a kind-of dough. A similar consistency has pancake-dough, a bit runny. Then its poured onto a metal-plate with hundreds of little tiny holes where hot steam comes out. This steams the runny dough into a little-chewy "rice paper". Then it's rolled. Finally soy sauce, and/or sesame sauce, chilli sauce or other flavors is poured over it. It can also come filled with shrimps, BBQ pork or other fillings. It's incredible.
Fish Balls
Those little chewy, almost spongy balls. Taste like fish, consistency like rubber. First I thought I eat pure chemicals. You might can imagine my surprise to find out that it is pure fish. The fish gets beaten until it's spongy and then cooked. It's amazing!
Dim Sum (mostly the steamed things)
DimSum is awesome. It comes in little pieces and its best shared with a lot of people.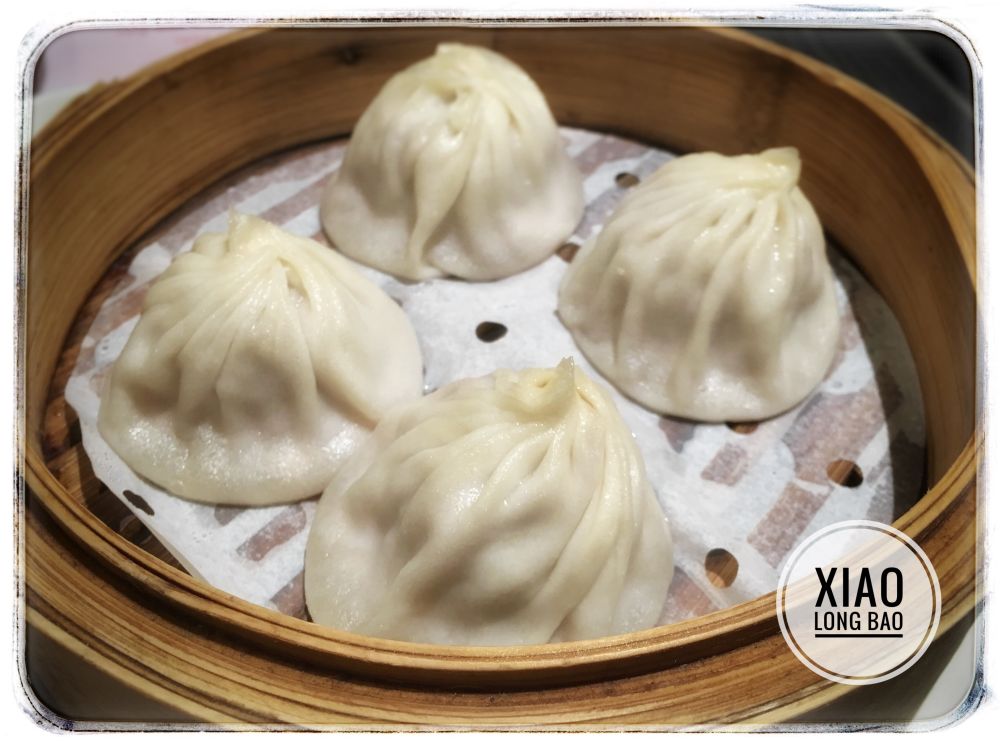 Xiao Long Bao in Jade - A Singapore Franchise
Its not necessarily just steamed food, and also not necessarily just healthy. There is buns, there is meat, there is soup, there are all kinds of fantastic dishes.
Bubble Tea and Other Drinks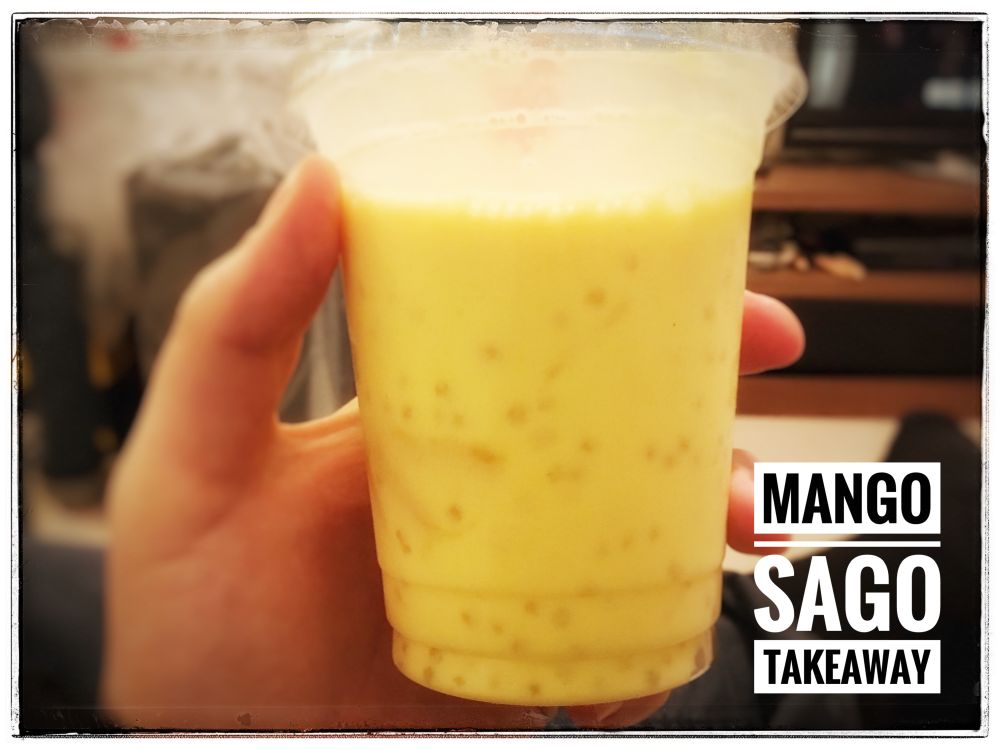 Mango Sago for take away from any local store
When you are in Hong Kong, just look around, there is probably a Bubble Tea store or a Juice store around. For Bubble tea I can recommend TenRen and come buy and Gong Cha.
Fine Dining
Hong Kong as a life-style city has plenty of great food choices. And in particular fine-dining is definitely possible here. There are world class restaurants and the greatest ingredients for the greatest chefs. If you ever planned to go fine dining, make your reservation.
You could start by giving the fine dining lovers a try and see what their website has to offer...
Having said that, there are some choices available that are between normal food and fine dining. For example, one huge recommendation: The All-You-Can-Eat Buffet from the Ritz Carlton. It's one of the best buffets I ever had in my life and I am happy to come back here from time to time.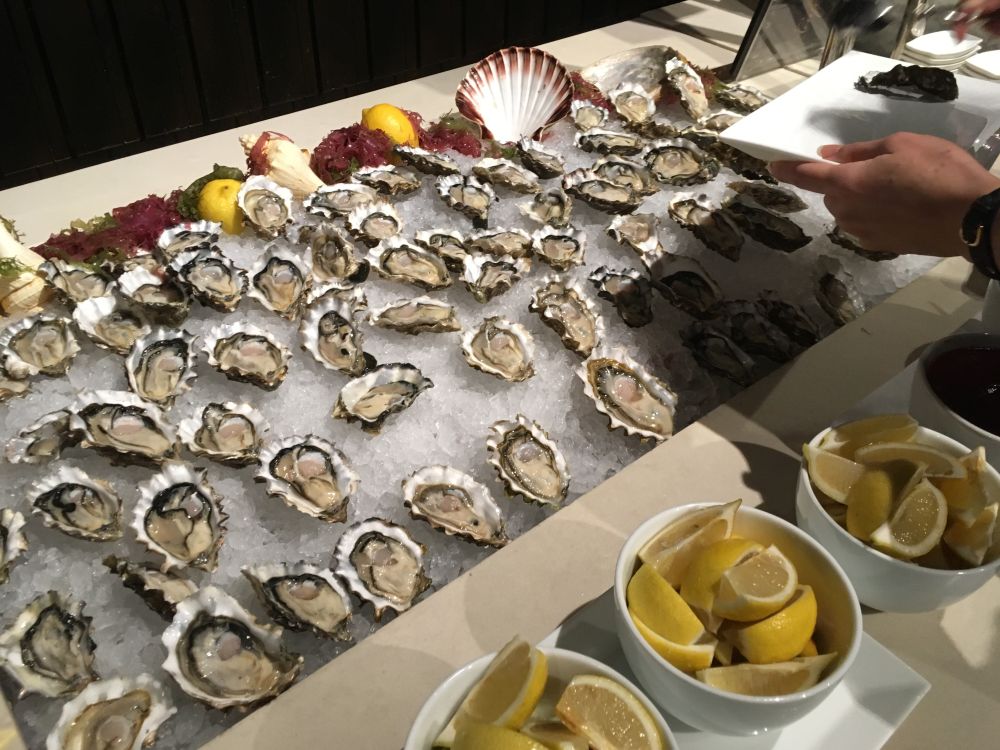 Oyster Buffer in RC Hong Kong
Snacks and other food
There is a plethora of food choices here in Hong Kong, have a look at the following few things: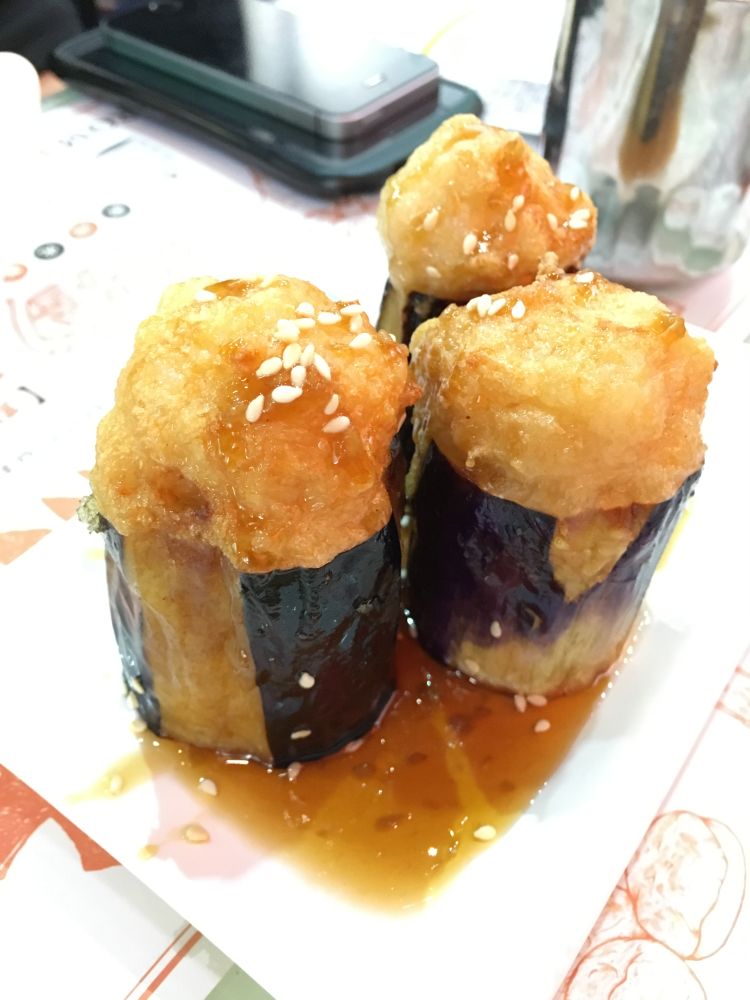 Eggplant Dim Sum: Covered with a fish paste, steamed, with a great sauce, melts in your mouth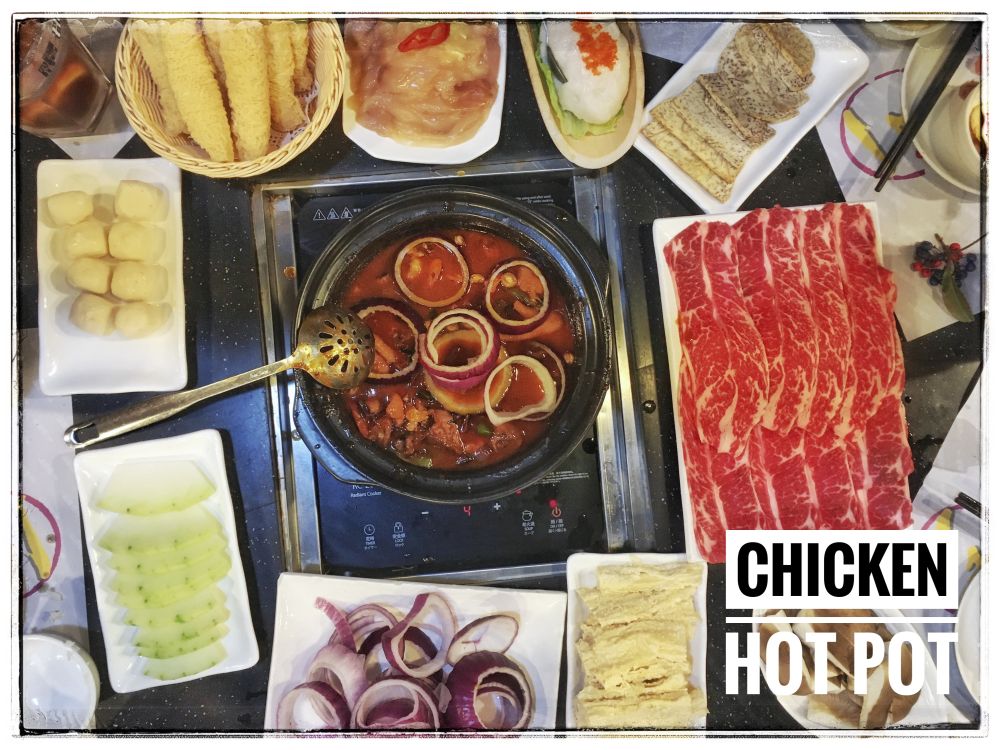 Chicken Hot Pot: First the Chicken is heated in a very dense sauce and then its filled up with chicken stock. The technique is a bit like Fondue, but different
For the Chicken Hot Pot I can recommend the following restaurant-franchise: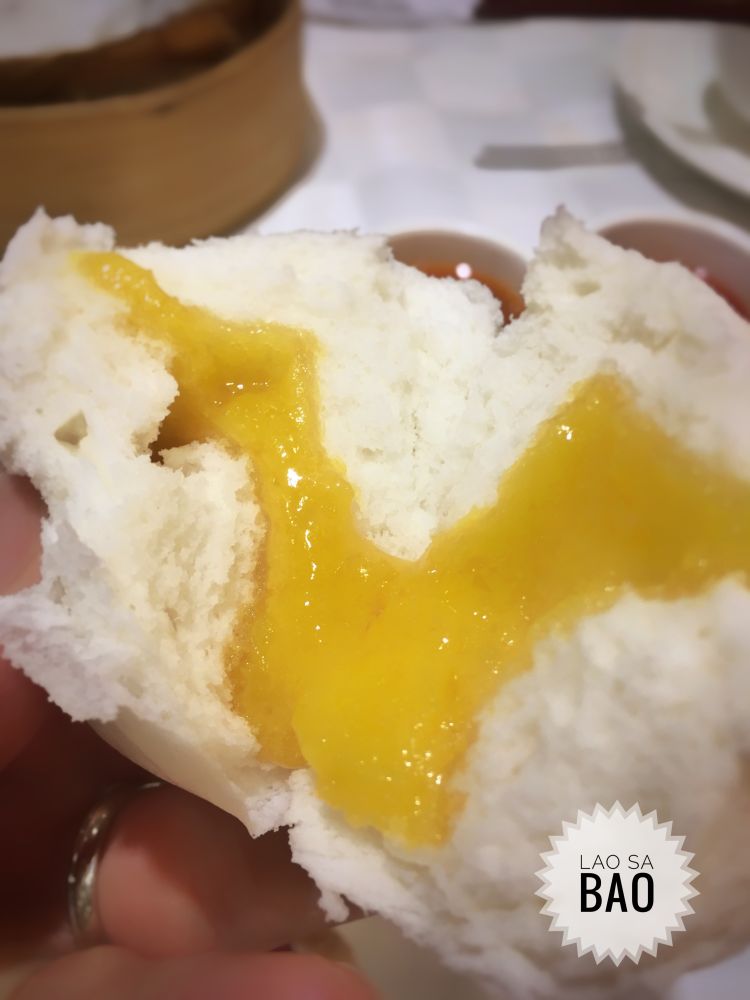 Bun filled with custard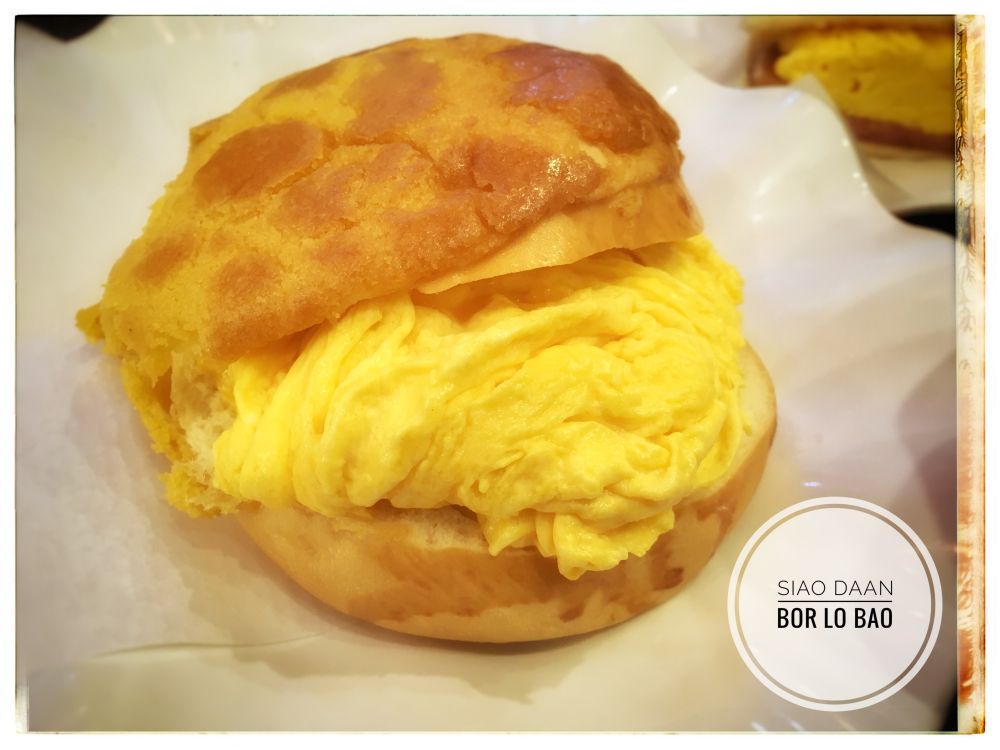 Pineapple Bun - the goddess of the buns. Here filled with Scrambled egg. The best pineapple bun is available fresh from the bakery in Sai Kung
Sai Kung if you are there, try two things: The chicken and the pineapple bun. Two reasons to come back here every time I visit Hong Kong.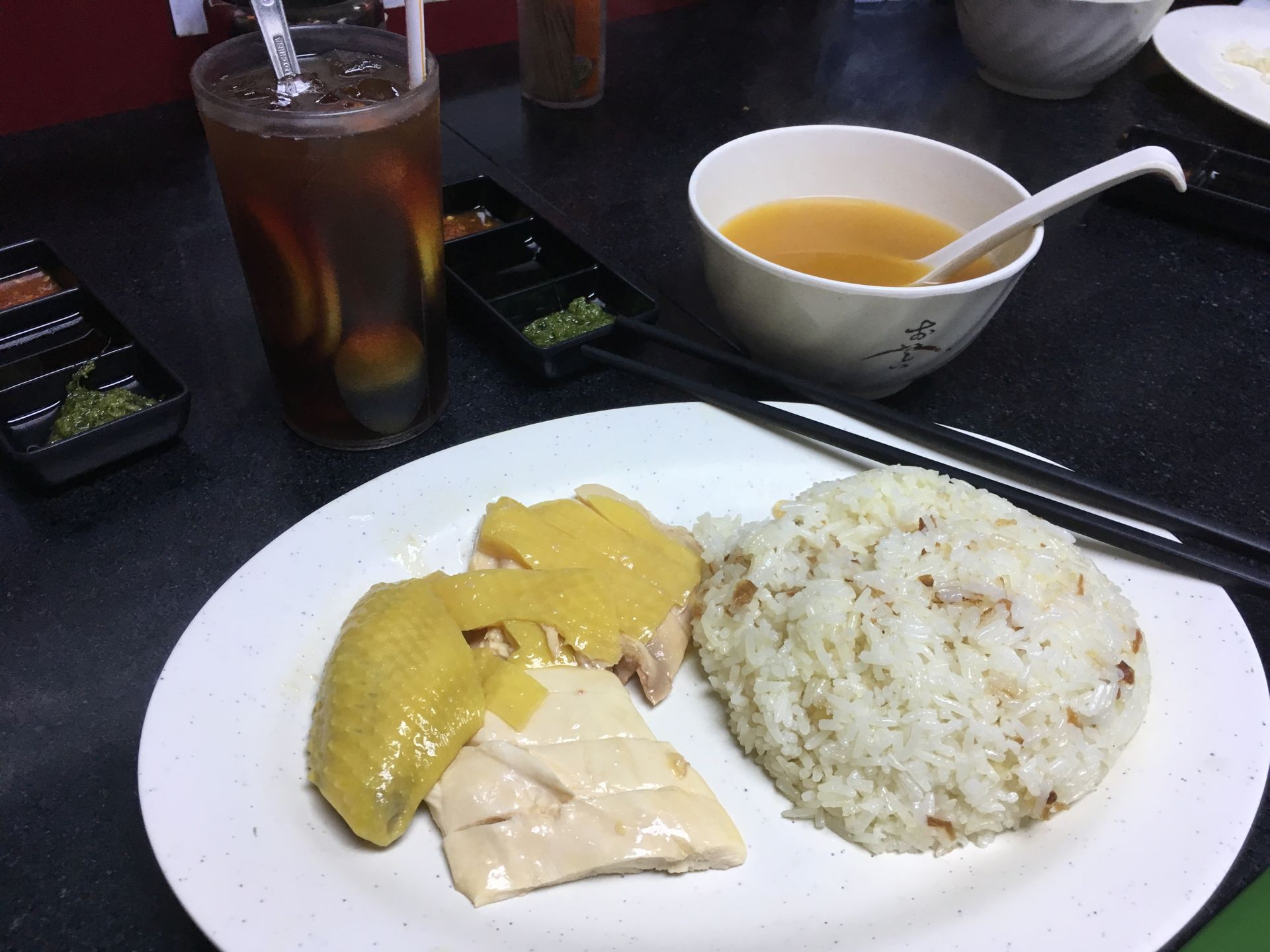 Sai Kung Chicken - it might doesn't look delicious, but holymoly, it is. The rice is with roasted onion, garlic and chicken fat
Here is the chicken, inside, not on the road-side:
And here is the pineapple bun:
Transportation and Internet
Without a doubt Hong Kong has great public transport. With around 8 million People living in this city, only around 500k cars are on the roads. The public transport is so efficient, I'd choose it any time over a car here.
Of course, this is easy to say once you know your way around.
Pro Tip: As soon as you arrive on Hong Kong Airport get an Octopus-Card and charge it with 200 HKD. You won't regret.
The Octopus Card can be used to pay almost anywhere, including buses and subways. I can recommend anyone.
Internet is fast here. Incredible fast. And, unlike in China, uncensored. My personal tip: Buy a prepaid card at the 7-11 at the airport. It's convenient to have internet everywhere and definitely helps to find your way around.
Another tip is: buy an external batter for your phone. You will run out of battery.
Shopping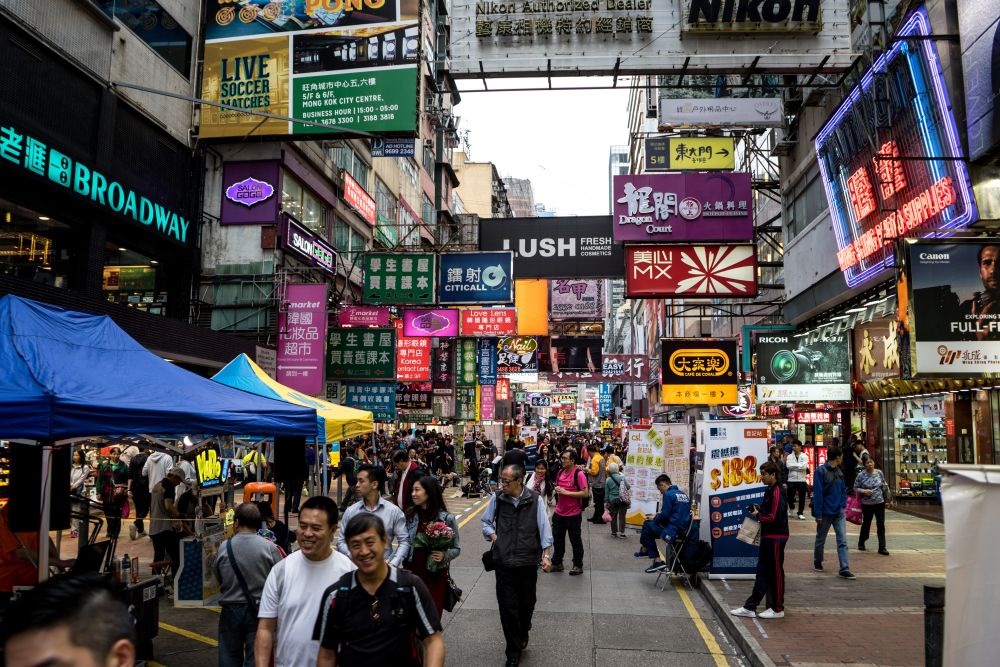 Mong Kok, the densiest populated place on earth
There is barely anything that you will not find here. From Fashion, Food to Electronics, Hong Kong got you covered. I am particularly interested in the electronics part here, so:
For gadgets go to Sham Shui Po. Do not go to the Golden Computer Arcade - its great to see something there, but nothing really to buy...
Go here instead:
For computer equipment and parts you can also go to the 298 computer zone:
Or just google it, I'm sure there are plenty of options around :)
That's it for now. My personal survival guide. If I missed something let me know in the comments.