Why Blockchain Is Insurance Disruption
A few days ago I asked how blockchain technology can help reduce the cost for insurance settlment and other overhead costs. How much are the settlement costs? The answer, how blockchain disrupts the Insurance Industry, might suprise and surpass your wildest expectations.
How Blockchain Disrupts the Insurance Industry In 2019
With technology evolving and paving the way for industrialization over the past few decades, the insurance industry hasn't changed so much compared to its counterpart. For instance, most customers still prefer to purchase new insurance package by calling the insurance brokers on the phone instead of using online brokers and service options.
The paper form of contract is still very much in vogue which relies heavily on human supervision and gives room for more errors not to mention the unique complexity of insurance from the insurer to the brokers and the consumers. All these put together highlights a possible failure at one point or the other throughout the system.
Now we introduce blockchain technology capable of providing a more secure and automated claim payment in the insurance industry.
The blockchain technology is capable of transforming the insurance industry if well-coordinated, and all industry players are on board.
Before we start to notice any form of disruption, it will require tremendous effort to overcome the legal and regulatory framework within the insurance industry. But there is a high possibility of blockchain technology disrupting the insurance technology in 2019.
In this chapter, we will share with you some key areas where blockchain technology can be utilized to make the process more efficient. You will also read about some startup applications that are explicitly designed to disrupt the insurance industry in 2019.
According to CBInsights Blockchains can help in 4 very broad areas very clearly:
Fraud Detection
Property and Casualty Insurance
Health Insurance and Medical Records
Reinsurance
I dug deeper to see how these compare to each other and how each of the sectors get distrupted. Let go through them step by step!
1. Detection of Insurance Fraud
KEY TAKEAWAYS
Insurance fraud is almost impossible to detect using the current methods and has cost insurance company a whopping sum of over $40B yearly.
The shared ledger technology offered by blockchain is capable of enhancing fraud detection when insurers merge their claim data across the board.
Through data sharing encouraged by blockchain technology, the overhead cost incurred by insurers in subscribing for fraud prevention is minimized.
FRAUD DETECTION TODAY
Insurance fraud is estimated to reach an excess of $40B yearly in the US as it affects both the insurance company and the clients who will have to pay increased premiums to cushion the effect of the loss.
The complexity surrounding the insurance industry in this modern age has made it difficult to notice some of the frauds happening in the industry.
The need for insurance companies to minimize and detect fraud has led to lots of paperwork and slow process of claims payment. This also hasn't helped to curb these despicable activities as criminals exploit this gap to make spurious claims from various insurers for a single loss.
USE OF BLOCKCHAIN TECHNOLOGY FOR FRAUD DETECTION
Better coordination can be forged between insurance providers to curb fraud. Insurers can make a record of the permanent transaction and share it on a distributed ledger with granular access controls to the security of data. This will no doubt help to store and share information about claims to other insurers thereby identifying suspicious act.
According to KPMG fraudulent data is often hard to find, because very large sets of data have to be processed. This can be improved significantly by using one large shared ledger of information.
Today, data mining is big business, and significant insurers make lots of investment in this to help them handle fraudulent activities better.
Public data helps to identify and analyze forms of fraudulent actions from earlier transactions, but they are often faced with the challenge of sharing these data across different organizations.
The limitations in the amount of personal information that can be shared have affected the idea of creating fraud prevention across the insurance industry. But, with blockchain technology, fraud can be vastly reduced if the insurers can be more coordinated.
A coordinated effort to curb insurance fraud through a blockchain-based system is by sharing fraudulent claims with other operators to help classify bad behavior pattern. This would benefit insurers in three significant ways:
Ensure that requests are not processed multiple times from the same accident.
Reduce forging and establish ownership through digital certificates.
Reduce or eradicate premium diversion as it checks unlicensed insurance brokers from selling and collecting the premium for themselves.
When insurance fraud is reduced, it will invariably lead to a higher profit margin and possibly a cheaper premium.
ETHERISC APPLICATION FOR FRAUD DETECTION
Etherisc is a startup blockchain technology designed to curb insurance fraud by simplifying the process. This tech allows people to purchase flight ticket insurance with cryptocurrency or money order to receive an automatic payout in the case of an eventuality such as flight delay. Some other product includes insurance against hurricane, crops, and cryptocurrencies.
Etherisc is driven by smart contracts which are capable of autonomously verify claims with the use of various sources of data. For instance, etherisc could make use of images from satellites to help process crop insurance claims and ensure it is accurate. This method is efficient enough to detect fraud.
Though still in the early stage, it has already shown promising signs of big things to come in the blockchain industry for the prevention of fraud.
2. Property and Casualty insurance (P&C)
KEY TAKEAWAYS
Blockchain technology allows insurance companies to collect and analyze data in real-time which could translate into a faster and cheaper property and casualty insurance processing.
A smart contract which is automated and facilitated by blockchain technology can be utilized to increase the processing of claims payout thereby helping consumers save more than $200B yearly.
In 2017, P&C insurance is a lucrative business, which accounts for almost half (48 percent or $576B) of the entire US insurance premiums.
Relevant data gathering is one of the most significant challenges being faced in the industry as they find it difficult to value and process claims. Insurance can be seen as a contract which states the premium to be paid by an insurer and other situations that may warrant payment of damages by the insurer. However, there need to be thorough checks to ensure the terms of the contract are met before payment for damages is made.
P&C INSURANCE TODAY
P&C claims processing is a procedure with a high tendency for inaccuracies as it needs people to enter data manually and back and forth communication amongst different parties.
For instance, you just had a car accident where the fault came from the other driver; in this scenario, you need to submit a request for claim payment to your insurance company. After thorough review from your insurance company and they ascertain that you are not at fault the next step is to reach out to the insurance company of the driver at fault — the process and system of this company may be different from your insurance company thereby creating lots of bottlenecks.
This makes a compelling case for the need to use blockchain technology for P&C insurance as it could enhance these processes through digital coverage.
PROPERTY AND CASUALTY INSURANCE ON A BLOCKCHAIN
The blockchain functionality allows policymakers and insurance companies to keep track and effectively manage their asset digitally. Blockchain technology enables rules to be coded across the board, claims to be processed almost instantly through smart contracts, and provides efficient audit system.
Blockchain technology powered smart contract can transform paper contracts into a set of codes for claims automation and computes the insurance liability of all involved parties.
For instance, when an insurer receives a claim, they won't need to spend valuable time checking through the paperwork to determine whether the insurer has coverage for the claim or not as smart contracts automatically decide that.
The BCG estimates that P&C insurers could save over $200B yearly through the adoption and use of smart contracts and significantly reduce their operating ratio from about 5 percent to 13 percent. A smart contract can minimize human intervention and in some cases eliminate it if well integrated into the entire insurance system.
INSURWAVE APPLICATION FOR PROPERTY AND CASUALTY INSURANCE
A typical example of blockchain technology for property and casualty insurance is the Insurwave which was launched in 2018. Some of the workings of the Insurwave is to provide immediate information to the insurer and client on the location, safety, and condition of the ship. For instance, if a ship wanders into high-risk prone areas like a war zone, it will be detected automatically and factored into pricing and financing calculations.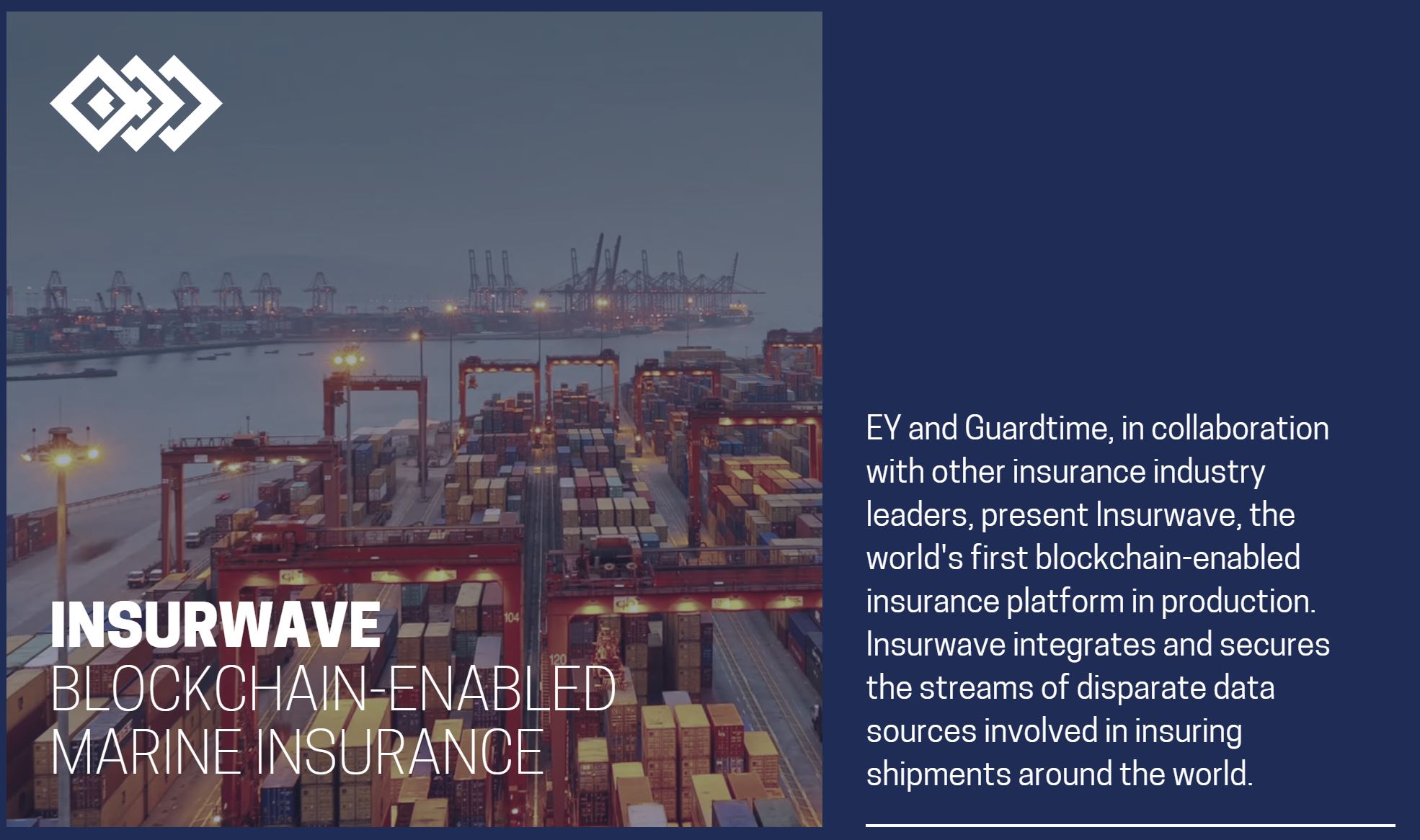 The overall idea of the Insurwave is to simplify and automate the complexity that surrounds auditing and payment of marine insurance premium. Lots of success has been recorded in marine insurance processing through Insurwave as it has made the process more efficient.
3. Health insurance
POINTS TO NOTE
Patients need for confidentiality implies that most providers find it difficult to receive full patient's medical reports, despite the recent boom in the market for medical records.
Denial of insurance claims can be attributed to a lack of data costing hospitals about $262B annual which is a crucial factor in the rising cost in healthcare.
Patient information can be encrypted through the use of blockchain technology thereby aiding the information transfer while patient privacy is protected.
Usually, a patient will need to see several doctors for various ailments in their lifetime. Due to the participation of several parties in healthcare, it's a big challenge sharing and managing delicate medical data among them.
HEALTHCARE TODAY
The performance of the insurance industry in healthcare is below par and inefficient with the current system in practice. Access to medical records of clients could be burdensome and at times end up getting false reports which affect their profitability when they need to pay more claim than they ought to pay, or at times pay for patients unnecessary procedure.
For instance, the long chain of processes to assess medical care and translate the same to the insurer and back to the doctors especially when you are being treated for a different medical case can be discouraging and cumbersome. All these make the process more prone to human and administrative errors.
Here are a few reasons why cooperation and data sharing with insurance companies is a bit challenging in the healthcare industry:
Outdated medical records back-end infrastructure
By the year 2022, the demand and sale of electronic medical records (EMR) software are expected to reach about $40B by the year 2022. However, there is a discrepancy in the format at which, and this has to be reconciled across the board.
The privacy law is inflexible making it difficult to access data within organizations.
For instance, we have the Health Insurance Portability and Accountability Act (HIPAA) in the US whose mandate is to help insurance companies assess patient's private data. However, the downside to this is that it becomes a challenge when one needs to harmonize patient care through several healthcare providers and insurers.
HEALTHCARE USING BLOCKCHAIN TECHNOLOGY
Blockchain technology in the healthcare sector can help to keep patients data secured while harmonizing healthcare data among various operators which invariably saves the billions of dollars for the industry every year.
The technology also enables patients to control the data shared with insurance company operators as the case arises. Blockchain tech for patient's data allows archiving of patient's record from different sources on a distributed register. This technology works in a unique way as it creates timestamps and encrypts the contents such that sensitive information is not directly stored on the blockchain.
The shared records reflect any change in the document which enables insurers and providers to assess medical information from various organizations. It also allows anonymous data collection for research purposes.
MEDREC APPLICATION FOR PROPERTY AND CASUALTY INSURANCE
Decent blockchain technology for medical insurance is MedRec designed by MIT. MedRec creates an index on the blockchain for providers to access a medical record. The idea is to ensure the privacy of patient's data and create an audit trail thereby simplifying the process of obtaining and verifying patient's data on the blockchain.
Though MedRec is a relatively new technology, it has shown great potential and proved useful for medical data management and storage.
Another example is Gem with a product called GemOS, which is a collaboration between Gem and the Philips Blockchain Labs. Gem launched a private Ethereum Network Fork, called GemHealth and partnered with Capital One to see how Blockchains can disrupt the claims management.
4. Reinsurance
POINTS TO NOTE
Insurers are protected through reinsurance when several clients make claims all at once especially in times of natural disaster.
Risk can be tremendously reduced through blockchain technology through sharing of information and reduce costs through process automating, and it has saved reinsurers about $10B.
The existence of insurance is aimed at ensuring people are cushioned from risks and unexpected events such as accidents, health issues, and natural disasters. This could be a very precarious plan, particularly in the case of tragedies like wildfires or hurricanes.
That's the essence of reinsurance whereby insurers can procure coverage from reinsurers against any possible disaster.
REINSURANCE TODAY
The idea period to employ the service of a reinsurer is a gruesome and unexpected situation. The reinsurance package could cover a sizeable percentage of an insurers risk within a set period based on the agreed plan. It could also encompass particular natural disasters like hurricanes or earthquakes.
The present process of reinsurance involves lots of complexity and inefficiencies. The paperwork for each contract could take up to 3 months for agreements to finally get signed which is not efficient enough. Typically, insurers engage several reinsurers before settling for the one they prefer leading to multiple data exchange across all parties. The difference in data standards comes into play here as contracts are often interpreted differently by different parties.
BLOCKCHAIN TECHNOLOGY FOR REINSURANCE
The current process of reinsurance can be enhanced with blockchain technology, and it can restructure the way information is shared between insurers and reinsurers.
With blockchain technology, there will be an automated view of premiums and losses on each parties system thereby eradicating the need to check manual ledger records for each claim. The shared data eliminate distrust and automates the process of claim payment.
B3I APPLICATION FOR REINSURANCE
B3i is a conglomerate of top insurance and assurance companies formed to harness the inherent potentials of blockchain technology. A trial product of a smart contract was launched in 2017 for Property Cat XOL contracts, which represents a form of reinsurance for disaster insurance.
A smart contract is created for each reinsurance contract with a specific code on the same shared platform. In the case of catastrophe events like earthquake or hurricane, sources of data are evaluated from each participant and payouts automated. After a successful trial sample of about 40 companies, the B3i started fully in 2019.
Making use blockchain technology to execute reinsurance policies helps to allot capital and fund insurance policies efficiently. It also guarantees more excellent stability and credibility for the insurance industry.
Approaching an Insurance Industry Powered By Blockchain
Though blockchain technology is still in its formative years, it has already made giant strides in the insurance industry. There are still lots of things to be improved upon in the blockchain technology in spite of its overwhelming interest for it to make a significant effect in the insurance industry.
The insurance industry needs to utilize the blockchain technology to improve their standards. While blockchain technology contains enhanced tools for data sharing and collaboration for insurers, they also need to be willing to maximize its benefits.
Blockchain technology also needs to be taken to the next level whereby everyone within the insurance industry can access it. However, the clog in the wheel of progress is that public bloc chains bring up security and privacy issue and the single blockchain is still in its development stage.
Conclusively, there is a high-level regulation within the insurance industry to shield consumers from exploitation and cushion the risk insurance companies take to prevent bankruptcy.
There needs to be advancement in the insurance industries legal and monitoring structure to ensure the success of blockchain technology.
Don't know how Blockchain works? Why it fits into your business? Reach out today! training@vomtom.at